BIG Kahuna Slot
Every once in awhile a thrilling new slot game comes along that goes a step beyond the rest.

THE BIG KAHUNA WILL TRULY BLOW YOU AWAY !!
Score matching symbols on any payline to win.
The Big Kahuna is the lead game of Microgaming's new package of game releases. This exciting and feature filled game is a 5 reel, 9 payline Video Slot, with a Wild symbol, a Scatter symbol and two Bonus features.
It was built on Microgaming's Advanced Slots Architecture which supports long physical reels and multiple coins per payline.
Microgaming continues to expand the range of diverse and exciting video slots with this latest Tribal theme offering, which is the most feature-rich game in this genre so far.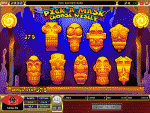 A special bonus game awaits lucky players.
Big Kahuna is a boldly themed, fun filled game with plenty of surprises and player interaction. An American style Video Slot with a humorous, jungle flavor, complete with colorful characters and mouthwatering *wild* fruits, this slot is sure to please everyone from the occaisional player to the seasoned gaming veteran. Wild and Scatter symbols contribute to an exciting win rate, with the real entertainment however coming from the two Bonus Features.
Gamblers will definitely feel the heat of the tribal beat at Big Kahuna, which once again raises the bar on top quality games in the industry, at the same time giving players a unique and exciting playing experience.
Big Kahuna is the first of several new video slots with multiple bonus features.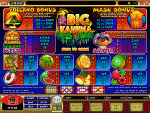 The payout chart shows many ways to win.
Despite its many features and surprises, this American style game has proven very popular with test audiences, who found it both fun and exciting. Although it is versatile and can be configured for a range of up to 15 coin values, you'll find that most casinos offer it in 0.01, 0.02, 0.05, 0.10, 0.25, 0.50 and 1 credit denominations.
The game takes up to five coins per line on nine lines, giving a maximum of 45 coins wagered and a top payout potential of 40,000 (8,000 coins x 5 coins per line x 1 credit).